Aloe Hotel Bedrooms
| | | |
| --- | --- | --- |
| | Aloe Hotel | |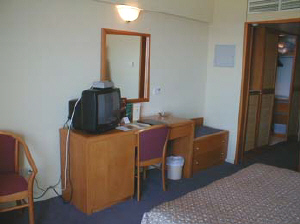 Aloe Hotel has 272 Rooms (5 Suites, 6 Family Suites). All guestrooms feature the following facilities:
Balcony, Private bathroom & WC, Air-conditioning/central heating, Satellite -TV, Pay TV, Radio, International direct dial phone, Mini Bar, Hairdryer, Safe deposit box and 24hrs Room Service.



Pool/ Mountain View Rooms
These rooms have a mountain-view overlooking the two outdoor pools and the garden -area of the hotel. Our Mountain View rooms are also available as interconnecting rooms.



Side Sea View Rooms
These rooms have a side sea view overlooking the green fields and the Mediterranean Sea. Some of these rooms can accommodate a third bed and are also available as inter-connecting rooms. Suitable for disabled people with spacious bathrooms and bedrooms. Provides an anti slip bath with handrail as well as a wall mounted basin.


Sea View Rooms
Very elegantly furnished rooms with a near view to the Mediterranean Sea. Some of them command also a unique view to the Ancient Fort of Paphos and the picturesque fishing harbour. These rooms are also available as inter-connecting rooms.

Family Rooms
Very spacious rooms, comfortable furnished and ideally suited for the accommodation of families. These rooms may take up to two extra beds for either adults or children.

Standard Family Suites
These rooms are made up of one Living room/Lounge area and one bedroom. The lounge area can also be converted and used as a second bedroom area for children. Theses rooms command a balcony with a view of the Mediterranean Sea. A private bathroom & WC along with a second smaller en-suite are available for the convenience of our guests staying in these standard suites. These are ideally suited for the accommodation of families with the advantage of the rooms being inter-connecting.


Superior Suite
Our Superior Suites consists of one Grand Bedroom with a king size bed and a separate living room/ lounge area which can also be converted into a second bedroom for the accommodation of children. These rooms command a spacious balcony with an excellent view of the sea and picturesque ancient harbor of Paphos. For the convenience of guests staying in our Superior suites they also provide one private bathroom & WC and a separate en-suite.

Back to Aloe Hotel details
Aloe Hotel Paphos Conference Facilities
Aloe Hotel Pafos Cyprus
Disclaimer: the details above are believed to be accurate at the date of publication, however no guarantee is provided by the booking agent for outdated or incorrect information.
We reserve the right to change displayed prices at any time without notice.
EMAIL
Before sending us an email see if we can answer some of your questions in our FAQ
Thank you for using our web site !
Cyprus Hotels
Copyright © 1997 -2019 Armata Productions. All rights reserved.
Revised: March 31, 2019.